Today my father came over, I was a bit nervous as it's been a while since we've talked and it was good to see him.  Maggie, Brandon and Slinky were good, we went for dim sum then came home to chat for a bit.  We have a lot to catch up on and I hope that this is a good sign of things to come.
He left around 2 or 3pm I think then we hung around the house the rest of the day.  Over the weekend Brandon and I have been playing this new Pokemon game (god I don't even like Pokemon), I think it's unlicensed, anyway it's called Monster Manual and it's pretty fun.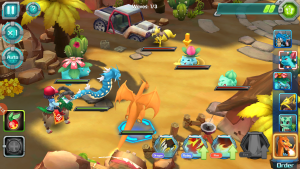 He's playing on my work phone, anyway it's mainly battling we can't really do co-op yet but I created a guild and hope to be able to play with him somehow.  Back to work tomorrow, it was relaxing but tiring too.