For over two years now I've been my airsoft teammates' JetBoil cooking systems (god there are probably at least 10 of them on the team) to boil water for the food I carry with me out to games and while they're all very generous, I've always wanted one for myself. I generally don't like having to rely on others, the system is not super expensive so I figure it was about time I stop leaching and get one for myself. 🙂
In late December, I went down to MEC and picked up a JetBoil SOL (aluminum version) along with 5 100g tanks of fuel. Initially I wanted to just order everything online but the fuel cannot be shipped, that's why I had to go to the store.
Included in the package is an orange plastic mounting base for the fuel tank, handy when you want more stability, the burner, a pot/pan support bracket that locks into place, a measuring cup, the aluminum cooking container and a sippy lid. Not included is fuel and again since it can't to be shipped, that's something you have to pick up in person. The nice thing about the JetBoil SOL (and all JetBoil units) is that all the components pack up either into or onto the aluminum cup including a fuel tank! That makes organization extremely easy, once everything is set just throw it into your pack and you're ready to go!
To set up the JetBoil SOL first extend the legs to the orange plastic stabilizer and install it onto the bottom of the fuel tank (snaps on and off). Once that's done flip out the fuel valve adjuster and screw the burner onto the tank. Now you have a choice, if you want to use a different/larger cooking pot you can install the pot/pan support bracket if not the burner by default supports the cooking cup with no additional tweaks. Note in the fourth picture my thumb is on the igniter, simply release some gas, press the black button and bam the system should ignite and you should have your cooking flame. If not press the black igniter a few times and you should be good to go.
If you're having trouble igniting a flame close the fuel valve, look at the starter close and press the black button. Do you see a spark? If you do perhaps your tank is empty if not then perhaps you need a new starter.
On the bottom of the JetBoil cup you'll see the "FluxRing" which is suppose to spread heat more evenly along the bottom of the container and "concentrates the heat". After putting the cup onto the burner, turn it so the cup locks into place. You'll also notice that inside the cup there are some measurement levels so you know how much water you're putting into it.
The JetBoil SOL aluminum cup is wrapped with a neoprene insulator which JetBoil calls a cargo cozy and at one side is a nylon loop that acts as a handle. Even when the thing is full of boiling water the cozy and handle allow you to handle the cup and with the sippy lid installed you can drink coffee or whatever with out too much worry about spilling. The third picture shows the measuring cup which can also act as a container to eat food if you don't want to eat out of the aluminum cup though it's not insulated so it could get hot to hold and don't let it near the flame or else it'll melt.
Finally is a picture of the 100g fuel tank, according to JetBoil it's suppose to be able to boil 10L of water though I can't verify that value… It does boil water 800ml of water pretty quickly, in around 2 minutes from previous experience with other JetBoil systems. There are two larger fuel tanks that you can purchase, the 230g & 450g tanks however they're obviously much larger and cannot be packed away into the system and will have to be carried separately. The JetBoil is also compatible with other brand fuel and worked just fine with a 450g North 49 Butane/Propane tank I had laying for another burner but note it is not compatible with Coleman propane tanks!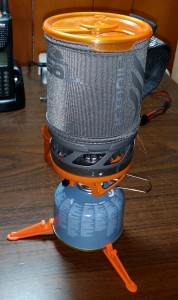 Heh I've had the luxury of bumming hot water from friends for the last couple of years but that's no longer necessary now that I have my own JetBoil SOL cooking system! To be fair I haven't used this particular unit yet but I am familiar with JetBoil's products as there are many of them on the team. The JetBoil SOL retails for $119 CDN and the small 100g fuel tanks cost $5, for that price it's really a no brainer to get for people who are outdoors a lot and want to eat warm food. Mmm I'm already looking forward to the next mil sim in April, that'll be the first time I actually use my own JetBoil.
I'll report back about the JetBoil SOL then and post further updates when there are new developments but yeah I'm pretty happy with what I got. 🙂