So on Thursday I ordered some level 2 kevlar plates for my PACA concealable vest, it's something I've been using for airsoft for a while and I figure why not outfit it with some real armour. Anyway it came from the UK and the seller sent it via FedEx Express so I got it the next day, lol how's that for service?!?  Unfortunately the armour is sized medium and my vest is a small ugh, so being impatient I ordered a medium in ranger green off ebay.
I was pretty bummed out that Lebaron closed down, I always enjoyed going to the store on Woodbine just South of Hwy 7, anyway a new store has opened in its place called Soley Outdoors, Stephen told me it was open so I popped by to take a look.  As I walked in, the shelves were pretty bare but the gun wall was fully stocked woo!  They didn't just have hunting rifles, they had a whole assortment of handguns & sporting rifles too, Lebaron use to only stock hunting stuff so this was a nice surprise.
Prices were pretty good, I've been thinking about getting a Marlin 1895 in 45/70 and they had one in stock for $858, not bad considering this lever action rifle typically goes for $1k.  It felt great in the hands but we're going away in Dec for a few days so money is tight, let alone the stupid Mini needing another $600 in maintenance this week…
I don't know if I'm allowed to snap pictures so I took a quick one of a Springfield M1A in an EBR body kit and a HK MR762 rifle, both of which are very high end guns.  I can't wait for this store to have the showroom set up, it's going to be quite a sight!
I skipped Brandon's badminton class (Maggie took him) and I replaced the medic pouch on my battle belt with one that can be torn off. With my previous setup, I'd need to take off my belt to treat someone (not like anyone would be shooting at me while I did it but still) so this makes things much easier. Since it's larger too, I was able to put two complete US military IFAKs (individual first aid kit) along with two tourniquets.  Hmm that reminds me, I need to renew my first aid certificate in early 2018 and I wish I could take some sort of tactical first aid where I learnt how to properly deal with gun shot wounds.
Went to Brandon's swimming class and that's always pretty funny since he isn't very good yet (but getting better) and of course I love to watch him skate.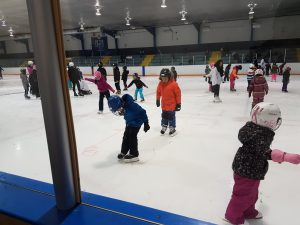 Anyway Saturday turned out to be pretty good and I'm looking forward to a relatively quiet Sunday. 🙂