This morning we scheduled a hike for the Beavers, it was at the Rouge Beach park with a guide from Parks Canada.  LOL they're little kids so it was more of a walk in the park instead of a hike but in any case it was fun.
It was around -10C in the morning and thankfully the kids were dressed appropriately.  A couple of the parents were a bit cold but meh they're adult sand can fend for themselves.  There were more people doing the guided walk than our group and it was fun to listen to Larry talk about how animals hibernate or deal with the winter weather.
Notably missing is Brandon, he came down with a bad cold (maybe the flu, not sure) Thursday night so I worked from home on Friday and well he wasn't well enough to come with me in the morning so he stayed home with Maggie.
We walked around for about an hour and a half then the event was over and everyone left, thankfully the parents all participated so I didn't have to stick around.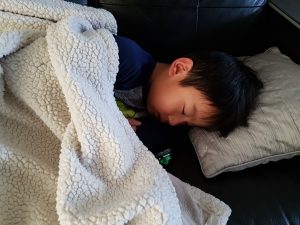 Hehe he looks like a little angel when he's asleep…  Anyway we didn't do much in the afternoon, Brandon slept on the sofa for much of it then played some games before going to bed early.  I cleaned my basement a bit and right now I'm looking for 1-4×24 optics.  Why I don't know I feel like putting something on the Norinco AR-15 as I don't like irons, I probably wouldn't shoot that gun much but still wouldn't mind some nice glass.  Well in any case i'm "just looking" right, doesn't mean I'm going to buy. 😉