I think I complain about it every year and I'll do it again now, I freaking hate day lights savings time!  Perhaps it still serves a purpose to someone but I hate it…
Anyway this weekend was rather relaxing, we didn't do anything out of the ordinary, Brandon did his activities yesterday and we hung around the house today.  Aleksandra came over, I've known her for years but it was the first time she been by because she needed Maggie to help her with her taxes and it was nice to catch up. 🙂
Brandon drew and painted Charizard, he loves Pokemon and I think he did a rather good job.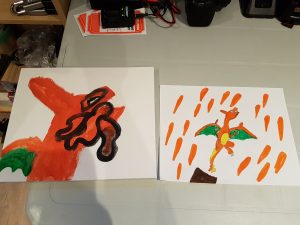 The black lines on the left are the flames, unfortunately we didn't have any red so he made due and I think it looked pretty good.  On the right I really like his sketch before colouring, ahh my little Picasso!
I also worked on my belt kit, I did quite a few gun classes last year and I've adjusted my belt to better suit my body mechanics and movement.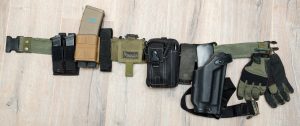 Right now it's set up for a rifle class where I'll also be wearing a plate carrier, but if I'm just working with my handgun I'd replace the double short Esstac Kywis rifle mag pouches and the Gerber AR multi tool, with additional pistol mag pouches.  The big black pouch near the middle holds my first aid trauma gear though I really want to replace it with something else.  It's not removable so I need to take my whole belt off to access it, it'll work for now but ideally I'd have something that I can tear off or remove so I can get to it faster.
Have my eye on the Blue Force Gear micro trauma kit, it's expensive but it should hold two chest seals, some combat gauze, gloves and my tourniquet.  I'd like to carry a second tourniquet somehow, I guess I'll figure that out later lol.
Sigh back to the grind tomorrow too bad I didn't win the lottery. 😉