While I have pondered getting a GBBR to use as my primary for mil sims (my MP7 is more an indoor weapon), one of the things that has been holding me back was figuring out how to carry gas; that is without carrying the damn propane tank. I fiddled with a VFC faux stun grenade gas charger I purchased a few years back (because I thought it was cool) but that thing is only good for ~2 GBB pistol mag refills. Using it with it and my teammates WETTI M4 GBBR mags, I don't even get enough gas for one full mag of BBs, that and the charger is also awkward to carry on the field.
Airsoft Innovations had just released its GasCan compact refilling device and I think it may have solved the problem for us airsofters.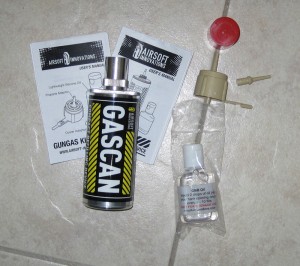 The AI GasCan is a literally just that, a small portable gas tank that you can bring to the field with you easily.  The package comes with a complete propane adapter kit (PP adapter, duster adapter, GBB silicon oil, manual), the GasCan device and of course the user's manual.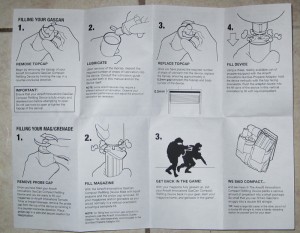 The first thing you should check out is the user's manual. Yeah I know the device is breeze to operate but if you're new to airsoft, it'll tell you everything you need to know.  The device is compatible with difuoroethane (HFC-152a), trifuoroethane (HFC 134a) and of course propane.
The device is 44 1/3mm in diameter and 130.6mm in height (up to the top of the cap) and according to AI, you can fit two GasCans into a single M4 pouch.  Unfortunately I have one device but I do have a bottle of Ibuprofen which is 45mm in diameter and what do you know it's true! 🙂  It's definitely a snug fit but it's fairly easy to extract, pull on the cap which is screwed on and it'll slide out. Myself I'd probably stick them in a smoke grenade pouch on my side or back, I only put primary magazines up front. 😉
So here's a quick breakdown on how to use open and use the charger.  At the top is the cap to that GasCan and removing it exposes the propane nozzle.  It's made of brass like the earlier versions of the AI propane adapter so take care when filling your mags.  When the GasCan is empty you can unscrew the top of the device, that'll expose the inside of the can and allows you to drop some oil into the device.  At the bottom is the GasCan fill port.  To use the device, you simply use it like a propane tank, flip it upside down and insert the tip into the GBB mag's gas fill port.
One of the biggest features of the device is, it allows you to oil your gas mags and the Tornado grenade without having to drop oil between the propane adapter and gas tank!  Simply put two drops of light silicon oil (included with the kit) into the GasCan or eight drops of heavy grenade silicon oil (included with your Tornado grenade) and charge it up with your gas propellant of choice.  Makes lubing your gun magazines and Tornado grenades much easier.  In case you forget, AI includes instructions on lubrication on the label.  Also handy, you can use a marker and check a box which indicates whether you have GBB or grenade oil in the GasCan.  Please be sure to check because grenade oil will mess up your GBB rifles and pistols!
Alright enough talk by now I'm sure you're wondering how it performs. 😉  I'm not sure if the GasCan is suppose to have an overfill indicator like with TM pistol mags, mine doesn't seem to shoot propane out when it's full so I gave the thing a good 10-15 second fill every time.  When the refilling device is full you can feel the liquid propane swoosh around. Testing the AI GasCan I am able to get 2 WETTI M4 mag refills or 4 KWA MP7 mag refills or finally 6 TM Hi Capa 4.3 mag fills per GASCAN charge.  That's a huge improvement over my VFC gas charger which could only do 1-2 TM 4.3 mag fills.
If you're a GBBR user the AI GasCan is definitely something you'll want to check out as it makes humping gas so much easier than dragging around a bulky propane tank.  Leave that sucker at base and carry a few of these, that'll allow you to do a "tactical" reload of gas on the field should you need it.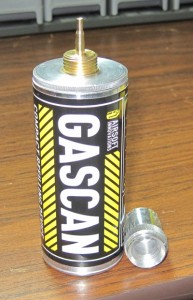 The Airsoft Innovations GasCan is a great little portable gas refilling device that GBB/R users will be interested in.  I know myself one of the bigger obstacles holding me back from purchasing a rifle GBBR is that I do not want to lug a tank of propane around with me (or can't in some cases as some fields here do not allow that). $50 US is pretty reasonable price if you ask me, the various VFC gas charger is about the same in terms of cost and is only good for maybe 1 (2 if you're lucky)  GBB pistol mags so the GasCan completely kicks its ass in terms of functionality (not to mention having oiled gas)!  It's definitely the best portable gas filling device available on the market at the moment.